It's that time again to hand over the computer to Mark for
Boys Behind the Blog
. I really like this link up. He is very supportive of my blog and this is a great way for him to step out and take part.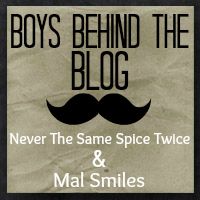 1. If you could live anywhere, where would you live?
I actually really like Oregon, but I wish we could take a vacation once a year away from the winter. However, if I could pick wherever, I think I would choose Australia. I don't have much of a desire to travel right now, but Australia has always been interesting to me.
2. Sand or snow? S
and
3. What Winter Olympics sport would you rock at?
curling, maybe
4. You're cooking a romantic dinner - what is your go-to dish?
smoked salmon & crab cakes with garlic aioli sauce with roasted asparagus
5. Fill in the blank: This year I gave Ashley
a haircut and color, chocolates and Starbucks
for Valentine's Day.